The selection of the veneer sheets is the first step, only knowledgeable eyes know how to distinguish the best from the rest and therefore suitable for Smania standards.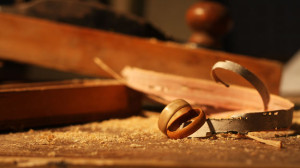 Each sheet is singularly chosen, an important note is that that in order to stock 200sqm , 15.000 sqm have been closely examined. Most wooden veneers have a similar flame in each sheet making it quite simple to match, Whereas burr walnut (as in briar root) the flame differs from sheet to sheet.
Working the burr walnut can be considered a true art, it's the "haute couture"- the tailor shop of wooden veneer. Each sheet of veneer is paired and sewn together with a special sewing machine and is all handcrafted .
Each piece is carefully selected and numbered in order to create a piece of furniture taking care of the natural wooden pattern that is created by the feather effect of the burr walnut, if a perfect match is not made , the piece is thrown out and it's a must that to start over.
The search for the perfect match makes it so that almost 50% of the veneers acquired are cast aside during the pairing process, thus meaning that each piece is authentic & unique.